As the weather continues to work in the favor of our local outdoor enthusiasts, we know the numerous nature trails around Richmond will start to populate with hikers, trail runners, bikers, and those seeking peace in the great outdoors.
Surrounding Richmond are several popular trails great for the opportunity to escape on your next lunch break for a walk, share a family picnic, or enjoy an outdoor workout! 
After scouting the local area and connecting with some local Richmonders, we have chosen our top five favorite nature trails for you to plan your next venture outdoors.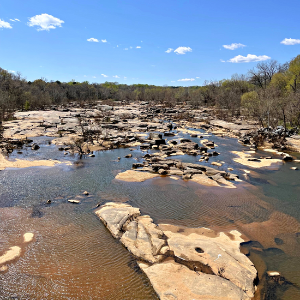 Buttermilk Trail 
This iconic 4.5-mile trail loops around the James River with scenic views throughout, connecting to other local trails like North Bank and Belle Isle! One of the most popular trails in Richmond, it can make an adventurous half-day walk with stops along the way to use the restroom or break for snacks. There are several starting points along this trail to park and begin your walk including the Belle Isle parking lot, Texas Beach parking lot, and Reedy Creek trail entrance.
Pony Pasture Trail 
One of the best trails along River Road is the Pony Pasture trail, offering local kayakers, paddle boarders, and rafters a great entry point to travel downriver towards Belle Isle and the notorious Pipeline walkway. This 2.1-mile looped trail travels along flat land for an easy walk, bike ride, or jog through the woods of the James River Park.

Texas Beach Trail 
A nature trail consisting mostly of sand, Texas Beach is a wild phenomenon combining both aspects of the beach and James River wildlife into one 3.4-mile coastline walk. With plenty of inlets to set up camp for the day, this popular trail also marks a great location to bring loved ones and enjoy a few hours by the water.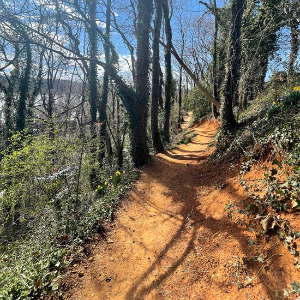 North Bank Trail 
One of the more challenging nature trails to venture out to in Richmond, VA is the 2.7-mile North Bank Trail. Featuring paths for both hikers and bikers, most of this walk is uphill navigating a few stone-covered areas. This nature walk is 100% worth the effort, providing broad views of the river and 'fantasy-like' greenery along the winding trail. Park in the Texas Beach parking lot and veer left or right to walk the full path.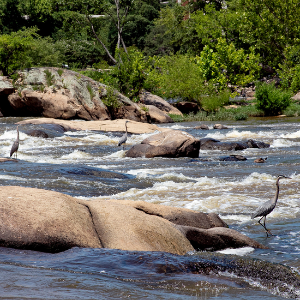 Belle Isle Trail 
Famous for the suspended bridge walkway, the Belle Isle trail gathers a big portion of the Richmond community offering a 1.2-mile walk with a bike course, sunny summer spots by the water to swim, and scenic bird-watching year-round. Every spring, Great Blue Herons dance around the rocks and rapids of the James River for their annual mating season, making this time of year perfect to plan a visit to catch sight of these prehistoric birds flying along the coast. 
Looking for more information about these trails and more surrounding the Richmond, Virginia area? Download our favorite AllTrails app to plan your next nature trail walk and more!