Where: Hot ChikN KitchN and Water's End Brewery in Fredericksburg, VA
Are you looking for a bite to eat with a freshly crafted beer in Downtown Fredericksburg? Well, you're in luck! Fredericksburg Square is now home to Water's End Brewery and Hot ChikN KitchN. Stop in for a bite to eat, a drink, live music, or all of the above.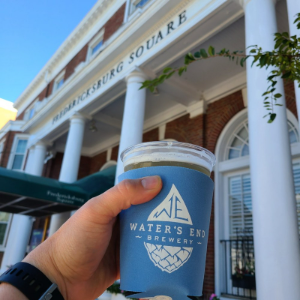 Water's End Brewery offers a rotating tap list of seasonal beers ranging from fruity sours like their Cranberry beer to juicy IPAs including their Don't Haze Me, Bro! and Hop Drop to American Lagers and Blonde Ales. Their 1854 Lager, named after the year Fredericksburg Square was constructed is crisp and clean in flavor and can serve as the perfect refresher after a bite of Hot ChikN's spicier sauced dishes. You can order your favorite Water's End beer in one of four sizes; half-pour, full-pour, or a six-pack and growler to take home.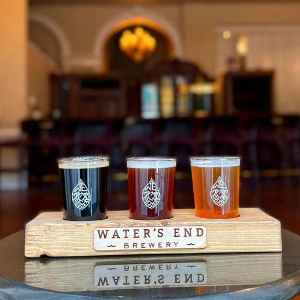 Water's End also has plenty of seating space for larger and smaller groups alike, making it a great spot to bring all your friends and family out for a fun evening out in Downtown Fredericksburg. On select nights they host local musicians to perform, and on holidays like upcoming Saint Patrick's day, special edition beer flavors hit the menu. We recommend on quieter nights bringing card games to play with friends while enjoying a drink and a side of HCK's perfectly seasoned crinkle cut fries.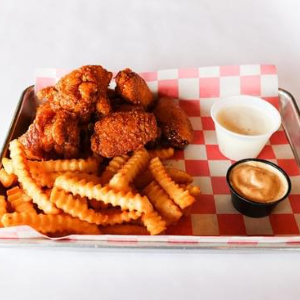 Hot ChikN KitchN lives up to its name, serving a variety of chicken-based dishes including their 'Country Style ChikN Salad', 'Loaded Fries', wings, and 'Loaded Mac N Cheese'. All of these dishes are made with the juiciest fried chicken and can be topped with one of their four signature sauces. Their least spicy 'Base" sauce packs in the flavor without being overly spicy. If you're feeling like something a step up on the spice scale, their 'After Burner' and 'Angry Hot' sauces won't disappoint. And if you think 'Angry Hot' isn't hot enough for you, give Hot ChikN's spiciest sauce, aptly named 'Medic' a try. This sauce is not for the faint of heart as it's crafted using Carolina Reaper peppers. You'll definitely want to have a beer and water on hand for anything you order with this sauce.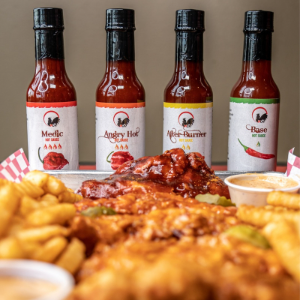 Water's End Brewery and Hot ChikN KitchN are open 7 days a week at noon and 11 am respectively, both closing at 9 pm Sunday-Tuesday, and 10 pm Wednesday-Saturday. In addition to their shared location in Fredericksburg Square, Hot ChikN KitchN has locations in nearby Woodbridge, Stafford, and a new location in Spotsylvania coming soon. Water's End Brewery also has two additional taprooms located in nearby Woodbridge, and Lake Ridge.
**Photos by Water's End Brewery and Hot ChikN KitchN**