See Where Your City Stacks Up!
Coldwell Banker annually shares a look at the nation's housing market through an "apples-to-apples" comparison of like-sized homes. The Home Listing Report is the largest survey of its kind, comparing more than 50,000 4-bedroom/2-bath listings in approximately 2,000 markets in the U.S. Unlike other "Most Expensive/Most Affordable Markets" studies which measure the median or average sale prices in each market, the HLR measures what the same size home—a four-bedroom/two-bathroom home—sells for in each market.  You can check out the national rankings at the link above or just focus on Virginia!
So Who's Paying The Most for their Home?
Luckily for us, 7 of the 10 most expensive towns in the nation are in Silicon Valley led by Saratoga where a 4 bed/2 bath home averages a whopping $2,453,718.  Saratoga is right down the road from Apple's headquarters in Cupertino.  The most affordable market is resurgent Detroit where that same house averages $64,110. The national average for a sample size home is $320,120, which could buy a 4 bedroom/2 bathroom home in nearly 1,300 markets across the country.
Where Do We Stack Up?
Fredericksburg, Stafford and Spotsylvania are solidly in the "average" range, with Stafford coming in at #17 Most Expensive in Virginia and Fredericksburg at #19. Spotsylvania was quite a bit lower at #29 in Virginia and #1077 Most Expensive nationally. Stafford is #771 Most Expensive and Fredericksburg is #833 Most Expensive nationally. The average price for a 4 bedroom, 2 bathroom home in Fredericksburg was $327,941, while Spotsy averaged $283,528. Manassas was much more expensive, at #481 Most Expensive nationally and #10 in Virginia because the average 4 bed/2 bath goes for $425,827. As far as cities within an hour of DC, however, Fredericksburg was by far the most affordable of all the Northern Virginia cities measured.
What Does This Mean For Me?
Homebuyers looking to buy in Spotsylvania will pay much less for the same size home in Stafford or Manassas. If location isn't as important to you as getting the most bang for your buck, you may be able to save money by buying in Spotsylvania instead of Fredericksburg, or Stafford instead of Manassas. This may also make some homebuyers consider prioritizing shorter commute times by sacrificing their guest rooms or lot sizes. If you're trying to sell in any of these areas, you can use this information to play up your property's strong suits while being aware of the pros and cons of each neighborhood. Coldwell Banker offers sellers the opportunity to convey the "story" of their home to the buyer through the "Seller Story" on ColdwellBanker.com. Coldwell Banker agents offer this unique marketing tool because homes are not just "four walls and a roof," buyers are buying into a lifestyle. Does your Spotsy home have an amazing forested backyard but it's a bit off the beaten path? Write your Seller Story to reflect how much you love relaxing in your backyard away from the urban jungle. Is your Stafford home close to shopping and restaurants but it's square-footage-challenged? Your Seller Story should emphasize the short commute times and fun energy of city living. This may convince buyers who are on the fence about moving to a new area that your home is worth the risk.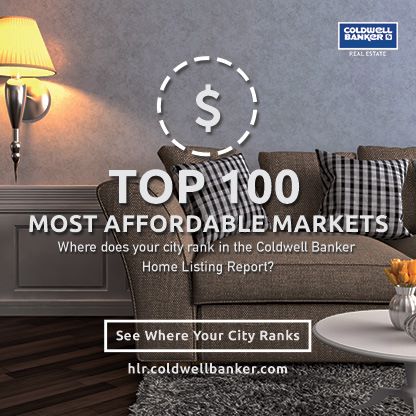 Coldwell Banker Real Estate LLC released its 2015 Home Listing Report (HLR), which ranks the affordability of 51 real estate markets in Virginia. The Coldwell Banker® Home Listing Report named Danville the most affordable market in Virginia, with an average listing price of $144,835, while Reston/Vienna ranked as the most expensive market in the state, with an average listing price of $641,783.
The annual report is the most extensive home price comparison tool currently available in the United States, ranking the average listing price of four-bedroom, two bathroom homes in more than 2,700 markets. While other affordability reports provide average or median prices for all homes in a given area, the Coldwell Banker Home Listing Report analyzes more than 81,000 four-bedroom, two-bathroom home listings to better address how much a home in one market would cost if the same home were located somewhere else in the country.
Top 10 Most Expensive Markets in Virginia
| MARKET | STATE | AVG PRICE | RANKING | LISTINGS |
| --- | --- | --- | --- | --- |
| Reston/Vienna | VA | $641,783 | 1 | Show me listings |
| Alexandria | VA | $625,333 | 2 | Show me listings |
| Fairfax | VA | $569,111 | 3 | Show me listings |
| Ashburn | VA | $559,750 | 4 | Show me listings |
| Burke | VA | $549,665 | 5 | Show me listings |
| Falls Church | VA | $545,472 | 6 | Show me listings |
| Centreville | VA | $504,446 | 7 | Show me listings |
| Herndon | VA | $490,560 | 8 | Show me listings |
| Chantilly | VA | $465,799 | 9 | Show me listings |
| Bealeton/Midland | VA | $443,507 | 10 | Show me listings |
Full data for Virginia, including affordability rankings of its local markets, is available on the Coldwell Banker Home Listing Report website.
About the 2015 U.S. Home Listing Report (Methodology):
The Coldwell Banker® U.S. Home Listing Report analyzes the average listing price of four-bedroom, two-bathroom real estate properties on coldwellbanker.com between December 2014 and June 2015 for 81,417 listings in 2,722 markets. The Coldwell Banker franchised affiliates, as well as other franchise brands associated with Realogy Holdings Corp, contribute to listings on coldwellbanker.com. Markets without at least 10 four-bedroom, two-bathroom listings on coldwellbanker.com between December 2014 and June 2015 were excluded from the ranking.
Coldwell Banker Elite located in Fredericksburg, Stafford, Massaponax, Prince William, Locust Grove, King George, and Colonial Beach Virginia can be reached at:
540.621.6259  |  http://www.ColdwellBankerElite.com  |  econnect@cbeva.com
Coldwell Banker Elite has been serving the Greater Fredericksburg area for over 30 years.