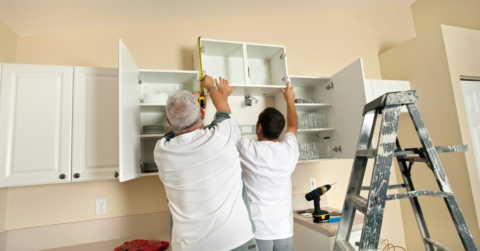 Your kitchen serves as the heart of your home. It is where your family gathers for meals, social gatherings, and all kinds of memory-making with the people who matter most. A modern kitchen is more than just a place to cook. So, why not make it something special?
When it comes to remodeling projects, kitchens take the top spot. Americans spend more modeling their kitchens than any other room in the home. But before you take the leap and start investing your money, there are 5 things you need to consider before you get started.
#1. It All Starts With a Plan
Every successful project starts with a top-notch plan. Start with your budget. How much can you afford to spend? What appliances and fixtures will you need, and how much will they costs? Selecting details like fixtures early will help you acquire a more accurate estimate and help you stay within your budget. Try not to plan for a big event around the remodel. Delays happen due to unforeseen circumstances, so you don't plan a big Thanksgiving get-together right after the scheduled completion time.
A good plan will also consider things outside of your budget. Questions like:
How long will this kitchen remodel take?

How much will construction inconvenience my day-to-day life?

Should we find a temporary space to live while the work is being done?
These questions will need to be answered before you begin.
#2. Incorporate Smart Technology
Technology is ubiquitous in our homes, and in most cases, it helps make our lives easier. When remodeling your kitchen, consider installing some high-tech appliances that add convenience and an elevated look. Touch-activated faucets and smart trash cans allow you to get more done when your hands are messy or full. Many appliances can be integrated with Bluetooth for remote operation. There are even several options on the market for touchscreen refrigerators that allow you to adjust the temperature, control the ice maker, and display your family's weekly calendar and shopping lists.
You can easily install a hands-free personal assistant like Alexa or Google Home for quick access to music, podcasts, and recipes. Another way to incorporate more tech into your home is to talk to your electrician about adding more outlets and USB charging ports to your space so there's room for everybody's devices while you prepare meals and socialize.
#3. Appliances
You want your kitchen to look nice, but above all else, it has to be functional. Choose appliances that best fit your family's needs. Chances are, you don't need a commercial-grade range stove in your home. Choose your appliances from trusted brands with a reputation for quality and safety. Make sure they fit in your kitchen in terms of space and aesthetics.
#4. Accessibility
When you have the opportunity to remodel your kitchen, make it a place where everyone who comes into your home feels welcome. Moving walls to give yourself a larger footprint might not be the most practical idea, but you can certainly look at the space you have and improve the layout for better ease of movement. Anticipate which areas will become walkways or high traffic areas and ensure ample space to maneuver things like strollers and wheelchairs. If you intend to entertain in your kitchen, ensure there is space for the cook to work while others socialize. Design your kitchen so your appliances are easy for everyone who needs to use them to reach, and add places people can sit while doing prep work. 
#5. Lighting and Color
This is where you get to really have fun and make your new kitchen yours. Lighting and color can do a lot to make a room feel more spacious than it is. If your kitchen is small, skip darker colors (which can make it feel more cramped) and opt for lighter tones and pastels. Using too many colors can also make a room feel busy and overcrowded—opt for a streamlined palette, using any bold colors for accents sparingly. Use natural lighting whenever possible but add some wall sconces or hanging fixtures to add personality and make sure you can still use your kitchen after the sun goes down. When picking out individual design elements like flooring, countertops, and cabinets, make sure your chosen colors look good together.