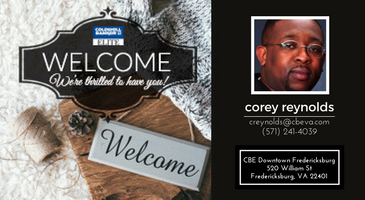 Meet Corey
Thank you for taking the time to get to know a little bit more about me! I was born and raised in Danville, VA but I've been a resident of the Fredericksburg and Spotsylvania County areas for 6 years. I'm a husband to a wonderful wife and father to four beautiful daughters and a handsome son! I have over 10 years experience in various real estate ventures and I'm willing to go the extra mile to assist you in securing your next home. Please don't hesitate to get in touch with me if you need help finding and purchasing your dream home!
Corey Reynolds | creynolds@cbeva.com | (571) 241-4039
CBE Fredericksburg | 520 William St Fredericksburg, VA 22401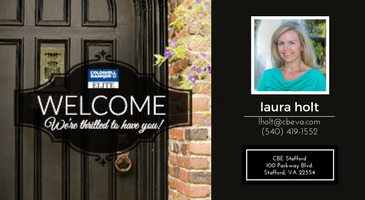 Meet Laura
First, let me thank you for taking the time to read a little bit about me and what I have to offer as a licensed real estate agent. I want to connect with you. I know that you're about to choose an agent that will assist you with one of the most important financial transactions of your lifetime. Through the story of my career and personal life, you will see how my experiences have prepared me to be the best real estate agent for you.
Let's start with who I am personally. My motivation for working hard stems from my family. It is important to me to be a good example for my children. I am a proud mother of 4 boys, 2 of which are twins. 22 years ago I married my wonderful husband. His support has been amazing. Together we lean on each other to keep our family centered. We all need someone to stand in our corner. This is what I will do for you as your agent.
You see, my husband and I started out as high school sweethearts in a small town in Indiana. In this rural community, I grew up on a family farm. This is where my parents taught me the value of hard work. As I matured, I graduated from Indiana University with a degree in Dental Hygiene and later obtained a Bachelors Degree in Health Science Education. My career in Dentistry taught me how to care for people while keeping their best interests in the forefront. My personal code of ethics is very similar in real estate. Educate, be honest, and abide by the regulations of the law.
Let me answer the question of why I chose real estate as a profession. My interest in the real estate field began with moving experiences. I have relocated multiple times. We have lived in Indiana, the Chicago area, North Dakota, and now Virginia. Yes, North Dakota is cold. Maybe this is why I love the warm summer in Virginia. However, through each move there were ups and downs. There was always excitement at the beginning of each new adventure and a flood of emotions telling our friends and family goodbye. Thankfully, a real estate agent stood by our side helping us sell and then buy our next home. Just like these agents, I care about my clients on a personal level. You can trust me to look out for your best interests.
I partner with Coldwell Banker Elite of Stafford Virginia, because they provide me with the best tools to get the job done in the current real estate market. In return, I will partner with you and your family to sell or purchase your next home.
Laura Holt | lholt@cbeva.com | (540) 419-1552
CBE Stafford | 100 Parkway Blvd Stafford, VA 22554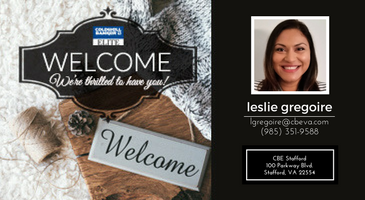 Meet Leslie
I grew up in the Northern Virginia area and after serving in the United States Marine Corps I decided to make Stafford my home. I developed an interest in real estate shortly after purchasing my second home here in Stafford. I love helping people accomplish their goals and would love to make home-buying a memorable experience for everyone I meet. I have worked the insurance industry, Federal Government and in Federal contracting and understand the needs of families in similar situations. I will strive to provide integrity, energy, hard work and creative services in every detail of the real estate transaction.
Leslie Gregoire | lgregoire@cbeva.com | (985) 351-9588
CBE Stafford | 100 Parkway Blvd Stafford, VA 22554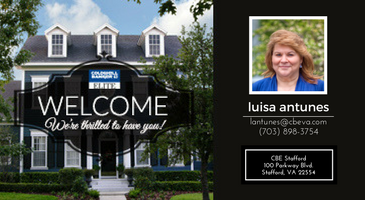 Meet Luisa
Thank you for taking the time to read this about me and to get to about know a little who I am. My family and I have lived in Stafford for the past 14 years. Although I have lived all my life in Northern Virginia, I cannot see myself or my family living anywhere else but Stafford.
I am a mother of 4 wonderful children, two dogs and a cat. I started to work at the age of 17 years old in retail while going to school and then became an office administrator. In my career the thing I have enjoyed the most is working with people–each one that I encounter has taught me about life–but the ones who really give me the strength are my family and my faith. In all that I do, I always strive to do my very best and you can be sure I will do everything I can to help you buy your next home or sell your current home. Working with  the the best team and company in Virginia is half of the work and Coldwell Banker Elite is the number one company in the region!
Luisa Antunes | lantunes@cbeva.com | 703-898-3754
CBE Stafford | 100 Parkway Blvd Stafford, VA 22554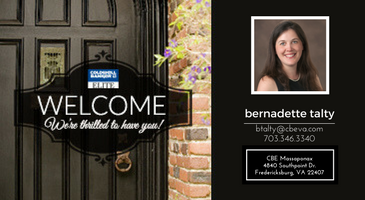 Meet Bernadette
I have recently joined the Coldwell Banker Elite team – the industry leader! I look forward to assisting you with your real estate needs. We will work together to create a successful plan to meet your goals while utilizing all the newest technology that only Coldwell Banker Elite provides. So, whether you are looking to buy, sell or rent, I am here to make the process seamless.
I am the wife of an Army Veteran and mother to three children. Prior to joining Coldwell Banker Elite, my backround was in Social Services. I relocated to Virginia from New York, living in Alexandria and Dale City until finally settling in Fredericksburg in 2004. I have dealt with an array of real estate situations and understand the stress that comes with moving. You will always be the priority when working with me! I will use my personal and professional experience to streamline the entire real estate process.
When you want an agent who will truly listen to your needs and work tirelessly to make your plans a success, give me a call!
Bernadette Talty | 703-346-3340 | btalty@cbeva.com
CBE Massaponax | 4840 Southpoint Dr Fredericksburg, VA 22407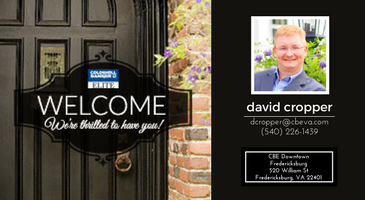 Meet David
I'm David Cropper, your Fredericksburg area Real Estate Agent.
A former owner of a successful small business, I am honored to be working with Coldwell Banker Elite. Prior to real estate, I specialized in insurance, building my own multi-million dollar insurance agency prior to moving into real estate. Coming from a military family, life has taken me to many places, but I always found my way back home to the Fredericksburg area.
My family settled here permanently many years ago and we enjoy everything this area has to offer. I enjoy playing host and tour guide to both friends and family visiting from out of town. In addition to Fredericksburg's many historical landmarks, there is also a thriving art district, walking trails, and a great variety of curiosity shops and eateries. You can hop on a bus for a quick trip to New York City, or take a short drive to Virginia Beach as well as the Blue Ridge Mountains.
Being the guardian of four cats, I am passionate about animal rescue. I support the Fredericksburg SPCA and other local rescue groups, helping animals find their forever homes. I have also served on local boards such as the Fredericksburg HIV/AIDS Support Services and Fredericksburg Pride. I strongly believe in being a member of my community.
I pride myself on outstanding client service and a commitment to representing you to the best of my ability. I am always honest, sometimes telling my clients things they don't want to hear. I will earn your trust through hard work, creative marketing, and knowledge of the real estate industry. When you're think of buying or selling your home, I am "on your side." Home is where the heart is and I will be your guide.
David Cropper | dcropper@cbeva.com |540-226-1439
http://Facebook.com/DavidCropperHomeSales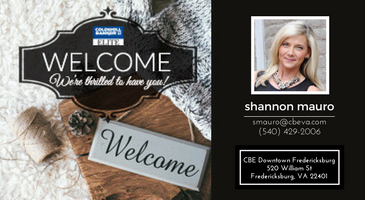 Meet Shannon
Born and raised in the beautiful state of Virginia, real estate has always been a passion and I am honored to join the Coldwell Banker Elite team.
Prior to real estate, I spent over twenty-five years as an executive level administrator and project manager for Fortune 500 companies in the home improvement, banking and technology sectors. I have also had the privilege of helping clients reach their personal goals for almost 30 years as a certified personal trainer and group fitness instructor.
My pledge, whether buying, selling or investing, is to bring outstanding customer support, consistent and on-going communication, loyalty, trust and strong attention to detail to every transaction.
When not working, I enjoy spending time with my husband and our three children, running in local races and serving the community assisting with local charity events as well as volunteering with the Special Olympic summer games.
Please contact me via phone, email or text. Your property is my priority.
smauro@cbeva.com | (540) 429-2006
CBE Downtown | 520 William St Fredericksburg, VA 22401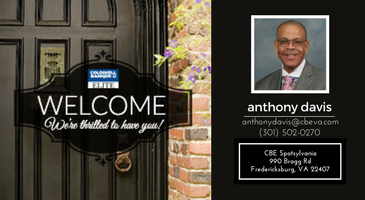 Meet Anthony
I am a native of Delaware and moved to Virginia about 20 years ago. I am married with two children.
I have traveled this beautiful country to most of the 48 states. I have yet to see the northwest quarter. I have many hobbies including technology, traveling, camping, motorcycle riding, and gardening.
I have been in customer service for over 30 years. Since I have been in customer service so long I am ready and eager to help you with your home search. I am a great listener who will take the time to find out exactly what you are looking for. I enjoy helping families find their dream home. Whether you are buying or selling a home, I will be with you every step of the way to ensure a smooth transaction from start to finish. I have moved quite a few times in my years and loved every minute of the "hunt" for the new perfect place to call home! I would be honored to help you on your hunt! My goal is to see all my clients happy and excited about their new home!
anthonydavis@cbeva.com | (301) 502-0270 | www.anthonydavisrealtor.com
CBE Spotsylvania | 990 Bragg Rd Fredericksburg, VA 22407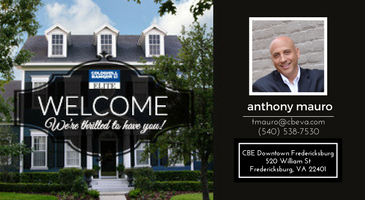 Meet Anthony
After 20 years of proudly serving my country as an active duty Marine and defense contractor, I am now putting my hard work and dedication to work for you. Having lived in Fredericksburg my entire life, I will use my intimate knowledge of the area to find the ideal location to suite your real estate needs.
My wife Shannon and I, are happily raising our family right here in Spotsylvania and together we enjoy many of the wonderful activities to be found in the area. An avid outdoors man, my hobbies are running and trail hiking in some of the local Civil War Battlefield parks and the beautiful Appalachia.
Please contact me via phone, text or email. I looking forward to working with you.
tmauro@cbeva.com | (540) 538-7530
CBE Downtown | 520 William St Fredericksburg, VA 22401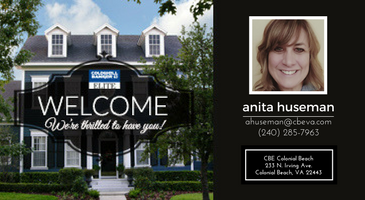 Meet Anita
I was born and raised in Winchester, Virginia. After graduating from Shepherd University with an accounting degree, I settled in Frederick, Maryland and immediately went to work for a prominent DC real estate developer. My career with the company lasted nearly 29 years. I held various positions in the accounting group ending my tenure as the Controller of Real Estate Portfolio and Fund Accounting. My favorite part of my job was being exposed to sales, acquisitions and construction of properties from the financial perspective.
During that same time my greatest joy and purpose in life was raising my children, a son Joey and a daughter Jillian. I served as a Girl Scout leader for 6 years and a "Big Sister" with the Big Brothers Big Sisters organization for 3 years.
When I began dating my husband 6 years ago, he introduced me to the Colonial Beach area where he owns a home. We loved coming to his house on the weekend to relax in the sun and enjoy the local venues. We made many good friends and found a common desire to participate in community growth and home renovations in the area. We recently purchased a "fixer upper" we believe has great potential and hope it's the first of many such homes for us. Once renovated, this home will serve as a vacation rental.
My husband Scott is an accountant who owns and manages a residential property management business in Charles County, MD. In our spare time besides enjoying our children, we love to cook, watch HGTV, discover great restaurants, listen to bands in the sun in CB, wander around small towns and of course do home improvement projects.
Home sales and home renovation feel like a natural progression for me. I have always had an interest in real estate, design and construction. When I see an old or neglected home I am struck with a vision of what it could be. I look forward to helping my clients find the perfect home or weekend get-away in Colonial Beach.
ahuseman@cbeva.com | 240-285-7963
CBE Colonial Beach |233 N. Irving Ave Colonial Beach, VA 22443