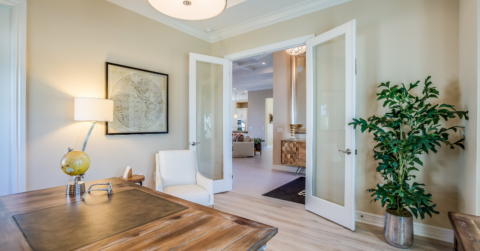 Are you ready to sell your home? Adding a home stager to your team might be your next best move. Your neighbors may not be talking about it, but many people connect with home-staging companies. The goal is to ensure a home is warm and welcoming while helping a buyer see the potential.
You have another option, too. Do your research — and do the staging yourself. With the help of a realtor, you can make a great first impression. Home staging has many benefits, and we hope you add it to your to-do list before putting your house on the market.
The How-Tos of Home Staging
Home staging is about preparing your home to help potential buyers see your space as their own. Adding decorations, removing personal items, and deep cleaning are a few ways to make staging a success. Although you are selling your home, remember you are also helping to sell a vision to the next homeowner. If you successfully staged your home, the benefits directly impact your budget.
Here is how to do things right:
House hunters don't want to see how you designed your home. They want to know if they can make a place feel like theirs. One of the best ways to accomplish this goal is to keep the design minimal. Let someone picture how their couch will look in the corner — or whether a bed will fit in a guest room.
What could mess up a beautifully staged home? Dirty baseboards, odors, or other visible signs of an unclean home. It's worth the time and investment to have your home professionally cleaned. For potential buyers, a clean home also shows a move-in-ready space.
There is no reason to stage every room. Try to focus on the rooms that are key selling points. Consider staging the living room or the kitchen. If you have a spacious main suite, find ways to help homebuyers see this space as their own.
Hire a Professional — or Home Stage On Your Own
While hiring a professional is a great investment, a seller may need to allocate those costs to another part of the process. Either way, you are giving your home an edge over other homes in the neighborhood. By selling a home that includes a vision, you may be able to sell your home faster and at a better price.
If you are ready to stage your home, here are your options:
Hire a full-service staging company
Allow a full-service company to do it all. They can help you place the right photos on your home listing, attracting more potential buyers.
Attend a consultation and stage on your own
Learn from the best, and then try it on your own. During a consultation, gain advice on which rooms are your best selling points. Then, find ways to help each room stand out.
Stage your home on your own and consult your realtor
A quick Google search can introduce helpful tips for staging your home. Check in with your REALTOR® for feedback and guidance. They also have an eye for design and have experience staging a property to maximize your space. 
Ready, set, stage! Put your home's best side on display with these helpful tips.

Coldwell Banker Launches Smart Home Staging Kit
Coldwell Banker's launch of the Smart Home Staging Kit today is a huge benefit to our sellers and just another way Coldwell Banker continues to lead the industry with cutting-edge real estate marketing and services for our clients. Not only will homes that have our Smart Home Staging Kit installed be more appealing to millennials, eco-conscious buyers and buyers looking for energy-efficiency as a cost-saving measure, they will also be searchable on ColdwellBanker.com as an actual "Smart Home," according to the CNET definition. These smart home listings will also appear on the CNET website, which means even more online exposure for your home.
Homebuyers are increasingly looking for Smart Home technology because it gives them the opportunity to take a more proactive role in the maintenance and security of their most expensive investment. As more buyers demand smart home features, these basic products will become de rigeur for new listings. The ability to purchase the Smart Home Staging Kit is going to be immensely helpful for our busy Coldwell Banker Elite sellers because most sellers don't have the time to research which smart home tech will actually provide the most bang for their buck. Our sellers will receive a carefully curated collection of the most popular smart home tech for a discounted price of $999—about a $135 savings! All of these products can be installed by any DIY-friendly homeowner but if you'd rather leave it to a professional, we've partnered with Pro.com to install the kit for $550.
What Makes a Home Smart?
The Staging Kit includes the Nest Learning Thermostat, one of the breakout stars of the smart home tech world, which learns the temperature you like and adapts to your schedule. As it learns your preferences, the Nest Thermostat saves customers an average of 10-12% on heating bills and 15% on their cooling bills, which means it usually pays for itself in under 2 years. One of the best features about the Nest Thermostat is that it can be controlled remotely from an app on your phone, so you never need to worry if you left the heat blasting before you went on vacation!
The Nest Protect smoke and carbon monoxide alarm integrates with the same app and keeps you informed about the air quality in your home (and lets you hush false smoke alarms from your phone during any cooking disasters). The Nest Cam indoor security camera can be mounted almost anywhere and lets you keep an eye on everything going on at home while you're away. Whether you're checking in on Fido or making sure your school-age kids got home safely, it's always nice to be able to keep an eye on things!
The kit also includes two products from August, the Smart Lock and the Connect, which make getting locked out or loaning a key to a handyman a thing of the past. The August Smart Lock can lock and unlock your deadbolt, create virtual keys for guests and keep track of who comes and goes, all from your phone. The last component of the Smart Home Kit is the Lutron Caseta Wireless Lighting Starter Kit which controls your lights, shades and temperature from an app. The Caseta Wireless Kit works with most lightbulbs so you can use the ones you already have, and create personalized lighting "scenes" like turning on the lights as you pull in your driveway or dimming specific lights for when you're watching TV.
Most sellers already understand the value of incorporating smart home technology, and purchasing the Smart Home Staging Kit makes sure that they aren't wasting their money on products that will not actually allow their home to be marketed as a "Smart Home." The Smart Home Staging Kit gives Coldwell Banker Elite sellers a powerful tool to distinguish their property and dollar for dollar, there aren't many improvements you can DIY for under $1000 that will drastically increase your home's value and marketability like upgrading to a Smart Home.