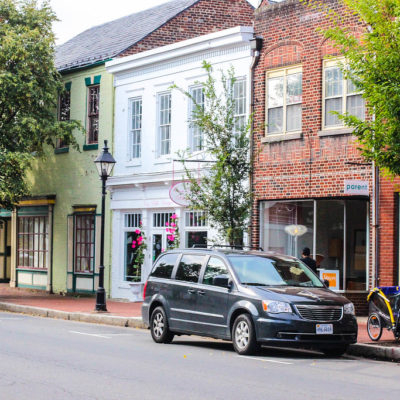 It's hard to pinpoint exactly what it is about your hometown or favorite neighborhood that really made you fall in love with the place… Was it the charming Main Street or the easy access to awesome shopping? What about the local playground or the incredible library? Whether you're moving to the area soon or have lived here for years, our agents had plenty to say about why they fell in love with their particular corner of Northern Virginia!
Location, Location, Location
For some agents, location and proximity to local amenities is key. Alison Rabak from our Gainesville office talks about her dreamy neighborhood layout, "I fell for our new neighborhood because of its location! My kids walk to school and there is a path around a pond that connects to restaurants, shopping, and a movie theater." Maya Bonello of the Rubio Group in our Stafford Office took resale value into account: "My husband is in the Military and we didn't know if this is the place we would stay forever. But we knew location mattered to us – personally and also for resale. We wanted to be in an established area with great schools, a welcoming neighborhood, and a home walkable to parks and shopping centers. Fairfax City gave us just that. We couldn't be more in love with the area."

Love At First Sight
Just like a great love story, sometimes the final decision is based entirely on a feeling! Stafford agent Terin Merriman "fell in love with Stafford because it has a country feel. Backroads with gorgeous views, horses and cows!" While Gainesville agent Vera Boujaoude was mainly interested in a particular school district, "We fell in love with our neighborhood because…when we came to see the home, we noticed tons of kids our kids' ages on our same street. We felt like we were home!"

Easy Like Sunday Morning
Latana Locke, broker of our King George and Colonial Beach offices, was won over by the low maintenance and friendly vibe of Hopyard Farms: "We love Hopyard Farms! We moved from a large lot with lots of leaves and leaves and leaves. My husband is retired and he wanted a smaller yard and easy walking areas. Hopyard is perfect—great neighbors, rural but not too far from town. We bought just over two years ago and love it here."
Let Us Play Matchmaker
Whenever you find "the one," we're here to help! Spotsylvania agent Sarah Hurst says "One of my favorite things is when clients just absolutely fall in love with a neighborhood and you can just see it in their eyes. It can be due to the school systems, the layout, the community amenities, or the warm feeling that it provides them with comfort and amenities. I believe that when a client falls in love with a neighborhood, the rest of the process can go pretty smoothly and we are just waiting for the right house to come onto the market that will become their forever home." If you think you've decided on your perfect neighborhood but there aren't any active listings at the moment, contact one of our agents to set up an automatic alert so that you'll be the first to know when your dream home hits the market!