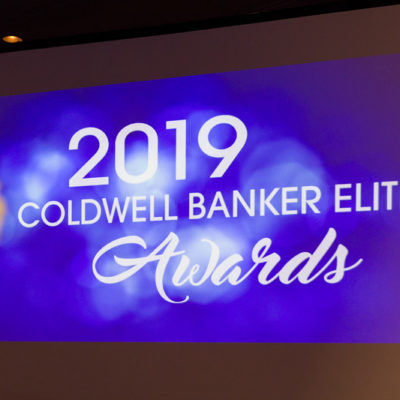 Every year, we look forward to celebrating and honoring those agents who have put a tremendous amount of time and effort into their business, as well as those who have gone above and beyond for the good of the company and their community. We are SO proud to once again be the #1 Coldwell Banker Affiliate in Virginia and #1 in Fredericksburg Region market share!  
This year we were delighted to present Valerie Garcia as our keynote speaker at the Fredericksburg Expo Center! After Valerie's insightful words on storytelling in the digital age, our agents and staff were fired up to receive their awards!
Congratulations again to the award winners and to all of our wonderful agents and staff! We are immensely proud of your commitment to excellence, integrity and ingenuity! Without further ado, here's the list of all the winners!
Coldwell Banker International Sterling Society
Eric Nelson, Vera Boujaoude, Lynne Harris, Pam Downing, Pat Herman, Laura Hough, Jacquelyn Johnston, Greg Lantier, Linda Light, Valerie Moss, Karen Nutt, Sarah Keddie, Brian Cunningham, Carla Criscuolo, Robin Marine, and Shelley Johnson
Coldwell Banker International Sterling Society Team
The Edmisten-Buck Team
Coldwell Banker International Diamond Society
Paul Janney, Heather O'Neill, Bethany Kelley, G Brown, Jennifer Caison, Heather Ferris, Teresa Davis, Tom Smith, Dan Goad and Amanda Elrod
Coldwell Banker International Diamond Society Team
The Love-Smith Team
Coldwell Banker International President's Circle
Relda Schick, Anna Lee, Melissa Stewart, Doreen Boggs, Catherine Rubio, Sid Sorenson
Coldwell Banker International President's Elite
Charlotte Rouse
Coldwell Banker International President's Elite Team
The Give Back Team
Coldwell Banker Elite Top Sales Agents
#1 Charlotte Rouse, #2 Doreen Boggs, #3 Catherine Rubio
Coldwell Banker Elite Top Sales Teams
#1 The Give Back Team, #2 The Love Smith Team, #3 The Edmisten-Buck Team
Coldwell Banker Elite Top Commercial Sales
#1 in Virginia & Top 2% in the US Brian Cunningham
Top Relocation Awards
Best Overall Conversion: Ruthie Buck, Highest Overall Service Evaluation Scores: Jennifer Caison
Coldwell Banker Elite Above & Beyond Awards
Eva Acevedo, Karen Nutt, Drew Fristoe, Garlene Daniel, The Green Team, Relda Schick, Peggy Thwing, Mary Jane Dimino, Samantha Weissman and Sarah Hurst
Coldwell Banker Elite Manager of the Year
Kelly Walker–Stafford Office
Coldwell Banker Elite Rookie of the Year
Sarah Hurst — Spotsylvania Office
Coldwell Banker Employees of the Year
Jamie Batten & Poppy Merrell
Coldwell Banker Elite True Blue (5 Years with Coldwell Banker Elite)
Delaney Bailey, Mary Bechtold, Carl Braun, Ruthie Buck, JR Burdette, Brian Cunningham, Jeff Edmisten, Jonathan Gardner, Lisa Fanucci-Dario, Arlene Gettlin, Suzanne Godin, Kelly Gronau-Dodson, Benita Kay, Ben Keddie, Greg Lantier, Carol Libbon, Joye Marsh, Bruce Mork, Kristin Rosser, Relda Schick, David Newman, Charles Ostlund, Donny Self, Niki Smith, Peggy Thwing
50 Years of Real Estate Service
Nick Calamos
Emerald Club
Doreen Boggs, Jennifer Caison, Teresa Davis, Heather Ferris, Bethany Kelley, Charlotte Rouse, Catherine Rubio, Sid Sorenson, Edmisten-Buck Team, Love-Smith Team, The Give Back Team, Brian Cunningham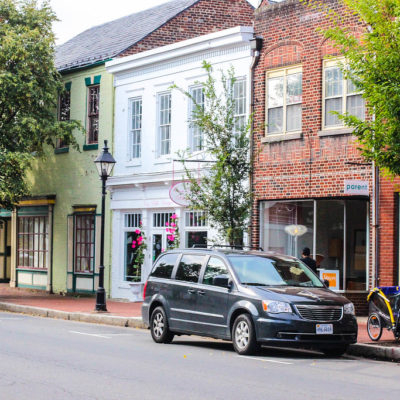 It's hard to pinpoint exactly what it is about your hometown or favorite neighborhood that really made you fall in love with the place… Was it the charming Main Street or the easy access to awesome shopping? What about the local playground or the incredible library? Whether you're moving to the area soon or have lived here for years, our agents had plenty to say about why they fell in love with their particular corner of Northern Virginia!
Location, Location, Location
For some agents, location and proximity to local amenities is key. Alison Rabak from our Gainesville office talks about her dreamy neighborhood layout, "I fell for our new neighborhood because of its location! My kids walk to school and there is a path around a pond that connects to restaurants, shopping, and a movie theater." Maya Bonello of the Rubio Group in our Stafford Office took resale value into account: "My husband is in the Military and we didn't know if this is the place we would stay forever. But we knew location mattered to us – personally and also for resale. We wanted to be in an established area with great schools, a welcoming neighborhood, and a home walkable to parks and shopping centers. Fairfax City gave us just that. We couldn't be more in love with the area."

Love At First Sight
Just like a great love story, sometimes the final decision is based entirely on a feeling! Stafford agent Terin Merriman "fell in love with Stafford because it has a country feel. Backroads with gorgeous views, horses and cows!" While Gainesville agent Vera Boujaoude was mainly interested in a particular school district, "We fell in love with our neighborhood because…when we came to see the home, we noticed tons of kids our kids' ages on our same street. We felt like we were home!"

Easy Like Sunday Morning
Latana Locke, broker of our King George and Colonial Beach offices, was won over by the low maintenance and friendly vibe of Hopyard Farms: "We love Hopyard Farms! We moved from a large lot with lots of leaves and leaves and leaves. My husband is retired and he wanted a smaller yard and easy walking areas. Hopyard is perfect—great neighbors, rural but not too far from town. We bought just over two years ago and love it here."
Let Us Play Matchmaker
Whenever you find "the one," we're here to help! Spotsylvania agent Sarah Hurst says "One of my favorite things is when clients just absolutely fall in love with a neighborhood and you can just see it in their eyes. It can be due to the school systems, the layout, the community amenities, or the warm feeling that it provides them with comfort and amenities. I believe that when a client falls in love with a neighborhood, the rest of the process can go pretty smoothly and we are just waiting for the right house to come onto the market that will become their forever home." If you think you've decided on your perfect neighborhood but there aren't any active listings at the moment, contact one of our agents to set up an automatic alert so that you'll be the first to know when your dream home hits the market!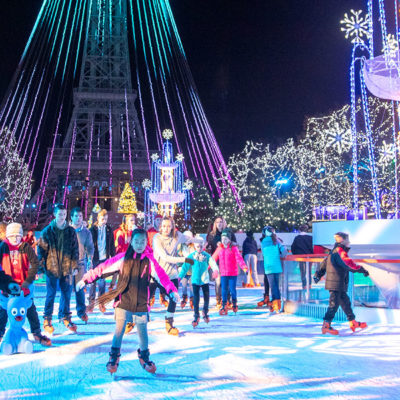 Streetlights are adorned in evergreen garlands, houses are glowing with twinkle lights–the holidays are always a magical time around here! We've rounded up our best picks for the most joyous holiday activities for the whole family!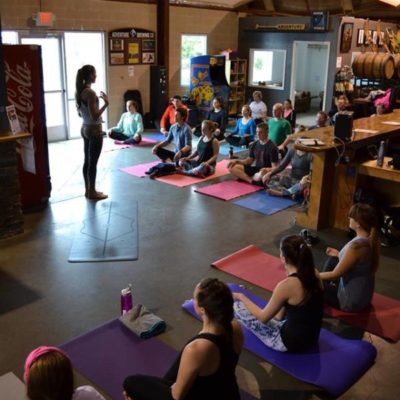 SATURDAY

Central Rappahannock Regional Library: Salem Church Branch
What the Health is a groundbreaking film that exposes the collusion and corruption in government and big business that is costing us trillions of healthcare dollars, and keeping us sick. The film is a surprising investigative documentary that will be an eye-opener for everyone concerned about our nation's health and how big business influences it. Bring a friend! All are welcome!

Fairfax Area Restaurants
Take a bite out of Fairfax City! Get to know our diverse, independent and evolving culinary scene. Dine out at participating Fairfax City restaurants March 4 through 10, 2018 for special value 3 course meals and dine-in specials.
The Crafty Cottage
We'll be making 3 kinds of soap: Spring (Lavender, Spearmint & Orange), Clary Sage, and Rosemary Lemon! All three of these are beautiful for springtime. The Spring soap is a very moisturizing favorite of ours. Clary Sage is one of my personal favorites because I adore Clary Sage which is just so soothing! And Rosemary Lemon is refreshing, cleansing, and aromatic! These are hot process soaps and there will be 3 crock pots brewing at once. This is a demonstration of how to melt, mix, cook, color, flavor, and mold the soap. It will then need to sit molded at least overnight. The soap will need to be picked up the next day, or the next weekend, after sitting in the molds and being sliced. The cost of this class is $30, and you will get the recipes and 1 bar from each batch. This class may be paid for ahead of time via PayPal (kcam583600@aol.com) or at the beginning of class.
SUNDAY
Adventure Brewing Company (North)
Bend and Brews with Adventure Brewing!
Join Natalie Selent (200hr RYT) and Downward Dogwood at Adventure Brewing for a 1 hour yoga class, followed by Adventure Brewing Beer! (1 beer included in admission price).
Escape the cold and come sweat, stretch and sip some beers with friends inside a nice warm brewery.
Savasana and then a Stonewall Stout?
Backbend and then a Backpack Wheat?
This class will be suitable for all levels and we welcome any and all first timers!
Dominion Raceway
We are back again this year with our friends from Modified DMV and are ready for a bigger and better year than last season. Come out on our true never prepped track for some true street 1/8 mile action. Bring your friends, bring your family, call out your rivals!! See who has the quickest car in a true street scenario where your tire and driving ability actually come into play!!! Don't worry about you guys and gals that don't like dig racing we also do low roll races too. Don't be scared come out and enjoy some racing along with great food at 118 bar and grill located on the 2nd floor!!! $20 to race all day!!! $5 to spectate!!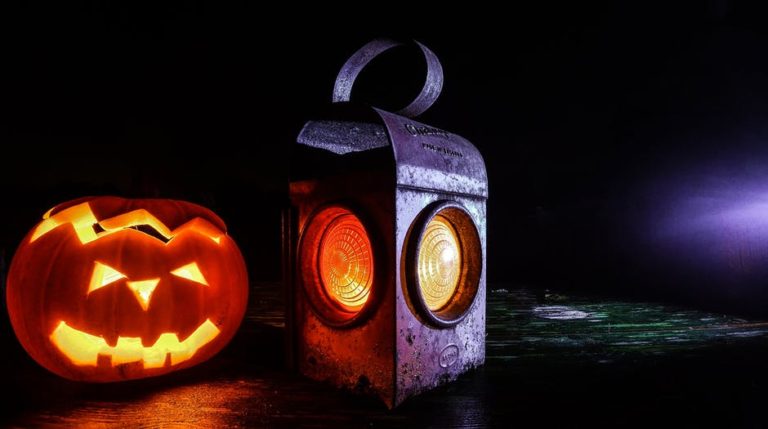 It's the spookiest time of year in the Burg! Grab your favorite ghouls and gals and plan your Halloween with our comprehensive list of Halloween parties, festivals and events! We've sorted them out into: "Super Scary" which are best for adults and teens, "Not-So-Scary" for kids and families and "Running Scared" which are 5Ks and running events!

Super Scary
Meet the Ghosts- Oct 27-29 and 30-31
From its Colonial past to the horrors of four major Civil War battles, Fredericksburg is one of the MOST haunted cities in America! Let the costumed guide navigate you through the paranormal combining the past with stories and folklore of the still lurking dead! Call 540-226-8378 to schedule a tour.
Fredericksburg Visitor Center Parking Lot, 706 Caroline St.
www.fredericksburghauntings.com
Belle Grove Plantation Paranormal Spooktacular- Oct 28
Paranormal Investigation with a paranormal team. Special All Hallows Eve Investigation on Halloween.
Belle Grove Plantation. 9221 Belle Grove Drive, King George, Virginia 22485. 540-621-7340. www.bellegroveplantation.com
Carriage Ghost Tour- Nightly in October
Fredericksburg, "America's Most Historic City," is also considered to be one of the most haunted cities in the country. Join us to see if you can find any undead on one of our 60 minute carriage Ghost Tours through historic downtown Fredericksburg. This tour is appropriate for all ages, so bring the entire family to search for those who still walk the streets after death!
Fredericksburg Visitor Center. www.oldetownecarriages.com
Halloween Haunt at KD- through Oct 29, starting at 7pm
Features ghastly creatures emerging from the darkness, highly-intense and bone-chilling attractions and some of the most hair-raising rides on the planet like the Intimidator 305 and Dominator roller coasters! NEW attractions this year! This event is not recommended for kids.
www.kingsdominion.com/play/haunt

Not-So-Scary
Fright Night in the Burg- Oct 26 5-7pm
Celebrate Halloween w/ a fun filled carnival and costume contests at the Dorothy Hart Community Ctr. Ages 3 – 5 will compete for most original and cutest while ages 6 – 8 and 9 – 11 will compete for most original and funniest! A family costume contest will take place and only one will be crowned "Best in the 'Burg!" Judging will start at 6:15 pm, so be on time! Pre-registration recommended. Cost: $6. One adult is free w/ each paying child. $2 for each additional adult. www.fredericksburgva.gov/parksandrec
Belvedere Plantation Fall Harvest Festival–Oct 28-29
Get lost in the Maize Maze or just take pictures at the Pumpkin Patch! There's plenty of fun and barnyard games to keep everyone in the family occupied! There's also wagon rides and roaring campfires to wind the day down! Open Weekends Sep-Nov 4 and Tues-Fri during the week!
http://belvedereplantation.com/fall-fun/
Treats in the Streets Downtown Fredericksburg-Oct 28 11-2pm
Trick-or-treating at downtown shops, and lots of fun at Riverfront Park! Learn safety tips for trick-or-treating and enjoy fun activities! Free!
Riverfront Park & Downtown Fredericksburg
4th Annual Fall Festival and Halloween Golf Cart Parade- Oct 28-29. 10 am – 5 
The Colonial Beach Fall Festival includes craft and food vendors, pony and hay rides, games, inflatables, crafts, fire pit and ends with the Halloween Golf Cart Parade. Free!
Town Hill, Colonial Beach
F'burg Fall Family Festival- Oct 29 3 – 6 pm.
From hay rides to inflatables and carnival games, it's fun for the entire family!
Spotsy Towne Centre. Free!
Spooky Stories- Oct 30 7pm
Listen if you dare to tales that will chill and thrill you, appropriate for grades K-6.
Porter Branch Library. librarypoint.org
Great Pumpkin Fest at Kings Dominion- through Oct 29
Kings Dominion is not all scary in the fall. It's all fun and no fear. Our daytime Halloween-themed events on select Saturdays and Sundays are geared towards children and families. Your favorite rides are also open during the day in Planet Snoopy. Kids Costumes are encouraged!
www.kingsdominion.com/play/great-pumpkin-fest
Creepy Crawly Carnival at Massad YMCA
Halloween festivities will once again be at the Massad Y! Games, haunted house, wicked fairy tales haunted trail ride, obstacle course, hay maze, pumpkin carving & more! Carnival area with crafts, games, treats and dancing.
212 Butler Rd, F'burg, 22405. www.family-ymca.org/about-us/news-events
Trick or Treat Mt Vernon- Oct 27-28 3:30-6:30pm
Participate in a special scavenger hunt, take a wagon ride on the 12-acre field, and create a boo-tiful Halloween craft in this unforgettable evening. A children's costume parade around the Mansion will begin at 5 p.m. and prizes will be awarded for most fang-tastic "George" and "Martha" costumes! Cost: $12/Adult & $6/Child. Buy tickets at www.mountvernon.org

Running Scared
Scare Away Dravet 5K -Oct 28 9a-noon
Let's find a cure for this catastrophic form of Epilpesy and put Dravet Syndrome to rest. Dress up for trick or treating as there will be a costume contest and many other family friendly Halloween activities to be announced soon.
Old Mill Park. Register at https://dravetfoundation.rallybound.org/5k-for-dravet-virginia
One Eyed Zombie Terror Trail 5K -Oct 28 4-6pm
Grab your running gear, and prepare to run for your life. Chose to either be a survivor or a zombie as you navigate 5 kilometers of forest trails and roads, while negotiating obstacles. Zombies and survivors run on separate clocks, as the survivors get a 30 second head start and try to out run the living dead. Each runner will have a life belt, and the zombies will try to take flags from it. Each flag taken adds 5 seconds to the survivors time, and takes 5 seconds from the zombies time. Registration is $25 for both survivors and zombies. All proceeds benefiting Special Olympics. For more information contact Caledon State Park, or Justyn Cox the race director at 540-205-5300 or howlincoyote10k@hotmail.com
Caledon State Park, 11617 Caledon Rd, King George
Halloween 5K & Monster Mile- Oct 28. 7:30 – 10 am. Get EXCITED because the most spooktacular race in the Stafford area is back with a new course this year! Prizes for the top finishers and best costumes! Put on your favorite costume, lace up your running shoes, and join us for our 2nd Annual Halloween 5K and Monster Mile!
Jeff Rouse Swim and Sport Center. Sign up at racetimingunlimited.com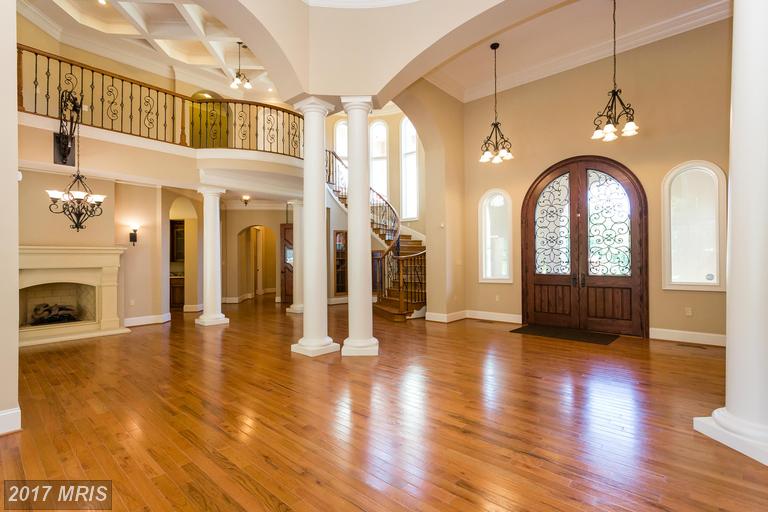 Desperately need to escape to the rolling hills of Tuscany and unwind with some vino? For $1,443,411, you could own the next best thing! Retreat to your very own magnificent Italianate villa on 30 stunning acres, nestled in the beautiful Hartwood area just off Warrenton Road. Guests will revel in the sheer opulence of this home, from the moment they pull up to the four car garage and enter the grand foyer with a graceful iron-wrought spiral staircase.
Snuggle up for a quiet night in in front of one of the home's four fireplaces or throw a lavish party in the full finished basement with coffered ceilings, complete with custom wet bar and movie theater. The home sprawls out over 11,000 square feet, so there's enough room for all your family and friends and there's 4 bedroom suites if they end up staying the night!
Of course, it wouldn't be a proper Italian villa if it didn't have an amazing gourmet kitchen! Where else are you going to whip up a mouthwatering osso bucco or spaghetti alla puttanesca? High-end appliances grace this gorgeous kitchen and there's a custom wine closet for the true connoisseur! 
A home this luxe wouldn't be complete without a gorgeous custom pool, five-person hot tub and immaculate stable! Four padded stalls with separate wash room, feed room and tack room for your convenience and fenced paddocks outside the stalls for easy turnout! For the equine family members that like to roam, there are ten acres of fenced-in pasture! 
And for the cherry on top, the master suite! Achieve true relaxation in the jet spa and steam shower, and then retire to your massive master bedroom. If you can imagine yourself living in this exquisite home, please contact Charlotte Rouse or any of our wonderful agents for a tour!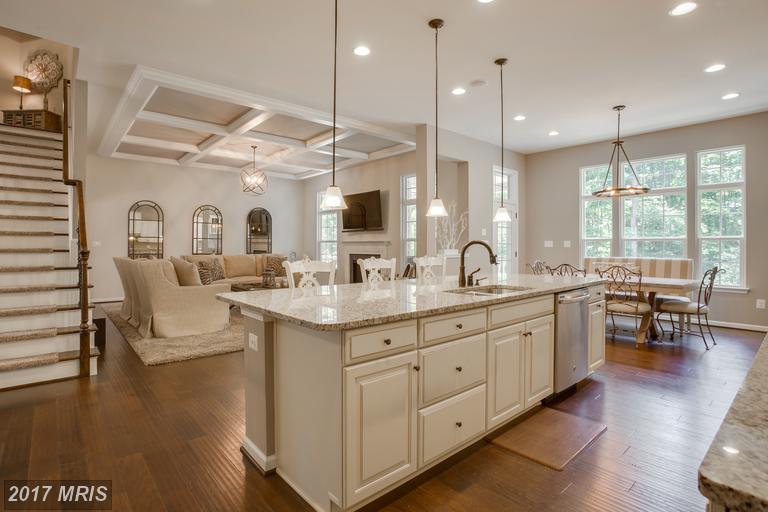 Welcome home to uncompromising luxury on 3+ waterfront acres, complete with a movie theater room, spa room, and incredible gourmet kitchen. 177 Herdmont Drive is listed for $834,900 and would make an incredible forever home with a main level master bedroom, top of the line finishes and custom tile and stone work.
No expense has been spared on this incredible home–all 6 bedrooms have en suite baths, the master bedroom has its own sitting room with a fireplace and the hardwood floors gleam throughout all 6,150 square feet. 
The basement is perfect for entertaining large groups with a full kitchen and wet bar, as well as a movie theater room. Every detail of this home has been perfectly polished and looks like it belongs on Pinterest–this is truly a dream home, in a convenient location off of Mountain View Road. 
If you'd like more information or to view this property, please contact the Love-Smith Team.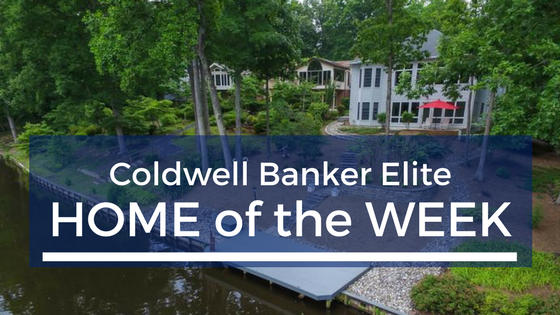 The gentle splash of a kayak paddling by, birds chirping happily among the lush landscaping… 1302 Eastover Parkway is a luxurious escape from the everyday. With a dock right on Keaton's Lake, an extra large patio for al fresco entertaining and panoramic views of the water, the beauty of nature gets to take center stage.

After you watch the sun sink behind the horizon from the Jacuzzi, it's time to retire to the 5,200 square feet of luxurious finishings inside. Brazilian cherry hardwoods run throughout the home, leading to the stunning gourmet kitchen with stainless steel appliances and granite countertops.
The faint sound of a lively trumpet solo floats throughout the home via the built-in stereo system. Your guests can gather around the welcoming kitchen island or settle in for a more formal evening under the Swarovski crystal chandelier in the dining room.
You've finished a lovely meal with friends, the boat is moored for the night–wind down for the night in the main level master suite with a gorgeous tray ceiling. For extra privacy, there are Ethan Allen window treatments throughout the home.
If this sounds like your perfect day, contact Penny Ostlund for more information. 1302 Eastover Parkway is listed for $674,900 and is located in the wonderful Lake of the Woods community!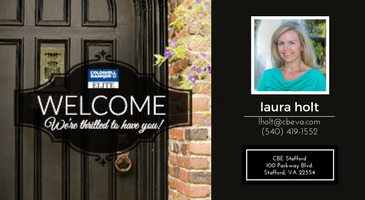 Meet Laura
First, let me thank you for taking the time to read a little bit about me and what I have to offer as a licensed real estate agent. I want to connect with you. I know that you're about to choose an agent that will assist you with one of the most important financial transactions of your lifetime. Through the story of my career and personal life, you will see how my experiences have prepared me to be the best real estate agent for you.
Let's start with who I am personally. My motivation for working hard stems from my family. It is important to me to be a good example for my children. I am a proud mother of 4 boys, 2 of which are twins. 22 years ago I married my wonderful husband. His support has been amazing. Together we lean on each other to keep our family centered. We all need someone to stand in our corner. This is what I will do for you as your agent.
You see, my husband and I started out as high school sweethearts in a small town in Indiana. In this rural community, I grew up on a family farm. This is where my parents taught me the value of hard work. As I matured, I graduated from Indiana University with a degree in Dental Hygiene and later obtained a Bachelors Degree in Health Science Education. My career in Dentistry taught me how to care for people while keeping their best interests in the forefront. My personal code of ethics is very similar in real estate. Educate, be honest, and abide by the regulations of the law.
Let me answer the question of why I chose real estate as a profession. My interest in the real estate field began with moving experiences. I have relocated multiple times. We have lived in Indiana, the Chicago area, North Dakota, and now Virginia. Yes, North Dakota is cold. Maybe this is why I love the warm summer in Virginia. However, through each move there were ups and downs. There was always excitement at the beginning of each new adventure and a flood of emotions telling our friends and family goodbye. Thankfully, a real estate agent stood by our side helping us sell and then buy our next home. Just like these agents, I care about my clients on a personal level. You can trust me to look out for your best interests.
I partner with Coldwell Banker Elite of Stafford Virginia, because they provide me with the best tools to get the job done in the current real estate market. In return, I will partner with you and your family to sell or purchase your next home.
Laura Holt | lholt@cbeva.com | (540) 419-1552
CBE Stafford | 100 Parkway Blvd Stafford, VA 22554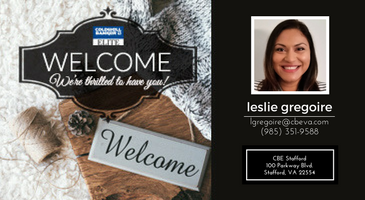 Meet Leslie
I grew up in the Northern Virginia area and after serving in the United States Marine Corps I decided to make Stafford my home. I developed an interest in real estate shortly after purchasing my second home here in Stafford. I love helping people accomplish their goals and would love to make home-buying a memorable experience for everyone I meet. I have worked the insurance industry, Federal Government and in Federal contracting and understand the needs of families in similar situations. I will strive to provide integrity, energy, hard work and creative services in every detail of the real estate transaction.
Leslie Gregoire | lgregoire@cbeva.com | (985) 351-9588
CBE Stafford | 100 Parkway Blvd Stafford, VA 22554